YGSNA Member Khalil Johnson Wins Turrentine Jackson Prize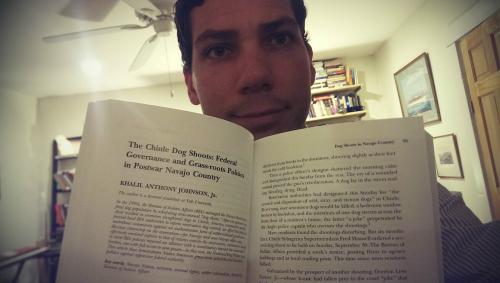 YGSNA member Khalil Anthony Johnson (African American Studies and American Studies) will receive the 2014 W. Turrentine Jackson Prize for his essay, "The Chinle Dog Shoots: Federal Governance and Grass-roots Politics in Postwar Navajo Country." This prize annually honors a graduate student essay published in the Pacific Historical Review,  one "that has been judged to be of outstanding quality." The award includes an honorarium, a plaque, as well as formal announcement in the PHR. The award will be presented at the President's Banquet at the annual meeting of the Pacific Coast Branch of the American Historical Association to be held in August.
"The Chinle Dog Shoots" was first circulated as a working paper among the YGSNA community and examines the intrusive forms of federal authority over everyday life within the Navajo Nation of the postwar era. It is Khalil's first peer-reviewed essay and is linked to his larger dissertation study of grass-roots educational activism within postwar Indian country. Congratulations Khalil!