Place, Nations, Generations, Beings Receives Independent Publisher Book Award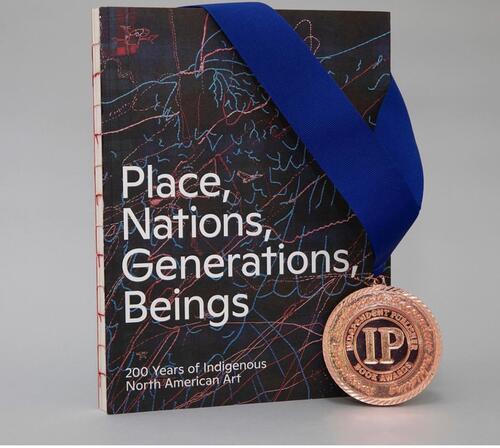 The 2019 Catalogue for the student-curated exhibition Place, Nations, Generations, Beings: 200 Years of Indigenous North American Art has received a bronze medal in the Fine Arts Books category of the 2020 Independent Publisher Book Awards. Conducted each year to honor the year's best independently published books, the "IPPY" Awards recognize excellence in a broad range of styles and subjects.
The groundbreaking exhibition is the first major show of Native American art at the Yale University Art Gallery. It brings together almost ninety pieces from across the extended Yale campus community and builds upon many student and faculty-led conversations about campus representations of Native Americans. Throughout the process, student curators Katie McCleary, Leah Shrestinian, and Joseph Zordan successfully navigated multiple campus collections in developing the exhibition and drew primarily from the Gallery, the Beinecke Rare Books and Manuscript Library, and the Yale Peabody Museum of Natural History.
Within each institution, the curators assessed, analyzed, and often re-interpreted the collections of Indigenous arts held within them, offering in the accompanying catalog the first detailed descriptions of most of these objects.
In addition to a detailed catalogue with images and descriptions of the objects in the exhibit, the catalogue consists of a Director's Foreword by the YUAG Director Stephanie Wiles; preface by the historian and storyteller Melissa Tantaquidgeon Zobel (Mohegan); an introduction to the exhibit and catalogue by the McCleary and Shrestinian; as well as an essay about Yale's Native American Cultural Center by Professor Ned Blackhawk and YGSNA graduate coordinator, Summer Sutton from the School of Architecture.
The catalogue's cover and structure offer important insights. They showcase two masterworks by Seneca artist and Yale alumnus Marie Watt. "First Teachers Balance the Universe, Part II: Things That Fly (Prey)" is detailed on the cover, and "First Teachers Balance the Universe, Part I: Things that Ply (Predator) appears on the back. Each was created with reclaimed wool blankets, embroidery floss, and thread. Following Watt's methods, the spine of the catalogue is left exposed to highlight the red thread binding of the book.
For more see: