American Indian Sovereignty Project Launched with NYU Law School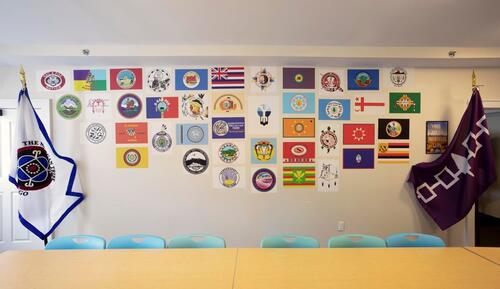 The Yale Group for the Study of Native America is excited to share news of an upcoming joint venture between our campus community and New York University: the establishment of the NYU-Yale American Indian Sovereignty Project. A multi-year commitment by the Faculty of Arts and Sciences at Yale and NYU School of Law, the Sovereignty Project is designed to support the study of Native governance and mitigate the effects of American colonialism on Native peoples. The Sovereignty Project will be run jointly by Maggie Blackhawk (Fond du Lac Band of Lake Superior Ojibwe) and Ned Blackhawk (Te-Moak Tribe of Western Shoshone Indians of Nevada), Professor of History and American Studies at Yale University.
The Sovereignty Project will house three initiatives designed to advance educational and legal efforts related to Native nations and Indian law:
The Native Briefing Project, a collaborative research effort that works across law schools to develop briefs and track ongoing cases relating to Indian law in the federal courts. The Briefing Project also works in conjunction with the Native American Rights Fund (NARF) and National Congress of American Indians (NCAI) Tribal Supreme Court Project, the Supreme Court Practice at Paul Weiss, and with Native nations and communities to identify and support particular cases.
The Native American Working Group, a coalition of academic working groups, including the Yale Group for the Study of Native America, focused on promoting academic engagement with the field of Native American Studies in collaboration with Native communities; and
The Judicial Education Project, aimed at crafting educational programming for the federal judiciary.
The Sovereignty Project seeks to provide structured opportunities, funding, and administrative assistance to both current and new initiatives in the field and has support from both institutions through a memorandum of understanding. "We've been fortunate to expand our Native American Studies and student community pretty dramatically over the past few years," Professor Ned Blackhawk says, "and now with the Sovereignty Project, we will have added space, resources, and administrative assistance to work collaboratively between institutions and with tribal communities."
At Yale, a Research Fellow (see below) will coordinate the Project's many efforts and also work to expand campus efforts relating to Native Studies. Since 2015, Y.G.S.N.A. has organized and/or co-sponsored hundreds of campus events, talks, and activities and done so in partnership with more recently formed campus Native programs, including the Yale Indigenous Performing Arts Program (YIPAP) and the Native American Language Project (NALP). The Sovereignty seeks to complement and extend these programmatic efforts and will work closely with campus faculty and student groups researching issues relating to American Indian sovereignty, including the Native American Law Students Association (NALSA). The Project's two other administrators include a Program Coordinator and a Clinical Fellow (see below), both of whom will be based at NYU.
The Sovereignty Project seeks applications for three initial positions: a program coordinator, a clinical fellow, and a research fellow.