Aaron Bird Bear Discusses Wisconsin Education and the Making of TheWays.Org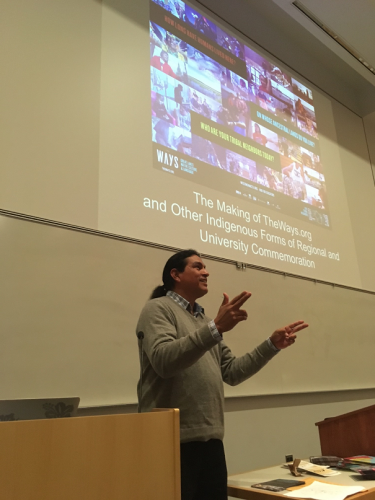 With support from the History Department and the Group for the Study of Native America, UW-Madison Interim Assistant Dean for Student Diversity Programs Aaron Bird Bear recently visited Yale to discuss his office's efforts to increase educational awareness and access for Native Americans. A member of the Mandan, Hidatsa, and Arikara Nation, Bird Bear's office oversees five academic programs that serve pre-college, undergraduate, and graduate students. It partners extensively with other state and campus institutions to provide resources for educators to teach students the history, culture, and tribal sovereignty of Wisconsin's 12 American Indian nations. In particular, Bird Bear has worked to develop educational resources designed to help implement Wisconsin's "Act 31," a legislative statue passed in 1991 that established five expectations for teachers, media specialists, teacher education programs, and educational leaders to integrate American Indian Studies into PK-16 education.
Working in partnership with the Wisconsin Indian Educational Association, the Wisconsin Department of Public Instruction, and the Wisconsin Media Lab, among others, Bird Bear has worked with teachers, Indian educational policy analysts, and in addition served in the advisory group for documentary film-maker Finn Ryan's production of short videos focusing upon contemporary American Indian communities. Entitled TheWays.Org and accompanied by sets of resources, maps, and pedagogical strategies, this set of videos showcases the diversity of the state's Indian communities. From urban Indian musicians to reservation language specialists, TheWays.Org showcases the variety of ways that Native peoples across the region navigate non-Native societies around them. It has become a celebrated pedagogical resource used by Native American educators, scholars, and community members.
During his visit to campus, Bird Bear lectured in Professor Ned Blackhawk's "Introduction to American Indian History" class where he not only discussed his advisory role in the making of TheWays.Org but also showcased his office's efforts to commemorate UW-Madison's long-standing Indigenous history. Indeed, as Bird Bear relayed, UW-Madison possesses a 12000-year history of continuous human occupation and an extensive set of pre-Columbian archaeological sites. Using groups tours and working to establish permanent forms of campus recognition of Native people—including the recently opened Dejope Residence Hall—Bird Bear relayed his fifteen years of experience working in Native student services at Wisconsin.
In addition to his lecture, Bird Bear also spoke at the Native American Cultural Center where he discussed various career paths in higher education with interested Yale students. 
See more:
http://education.wisc.edu/soe/about/resource-service-units/student-diversity-programs/american-indian-curriculum-services/why-act31