NALSA Members Host Self-Determination Panel at RebLaw Conference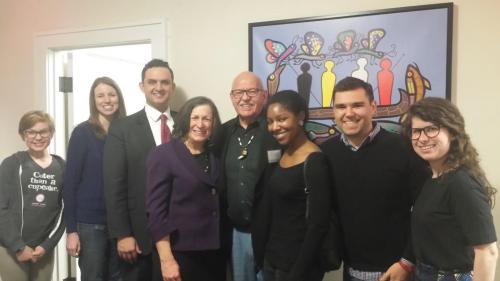 Yale Law School's Rebellious Lawyers Conference, which focuses on social justice and the law, featured a panel on tribal self-determination from the perspective of tribal leaders. Yale's Native American Law Student Association (NALSA) invited Lifetime Chief Lynn Malerba of Connecticut's Mohegan Tribe and Chairman Ron Allen of Washington's Jamestown S'Klallam Tribe, both long-time advocates of tribal self-determination, to discuss their own experiences as political leaders and how self-determination has changed their communities. NALSA also welcomed Columbia Law School Professor Shawn Watts (Cherokee Nation) back to YLS to moderate the panel after he participated in a panel on Native Peacemaking at last year's RebLaw.
In front of a standing-room-only crowd, Chief Malerba and Chairman Allen hailed tribal self-determination policies, which allow tribal governments to control programs and devise policies to govern their citizens with less interference from outside governments, as efficient ways to fulfill treaty obligations to Native nations while prioritizing tribal sovereignty. Both panelists emphasized problems with "one size fits all" policies in Indian Country and discussed programs in their respective nations which illustrated the diversity of approaches to common issues, such as policing and criminal justice. The tribal leaders also shared stories of their efforts to educate federal and state officials, ranging from U.S. Senators to the collected judges of the 9th Circuit Court of Appeals, about issues affecting their citizens and Indian Country at large.
After the panel, the Native American Community Center hosted a community dinner for Chief Malerba, Chairman Allen, and Professor Watts, who toured the NACC and met with undergraduate and graduate students from across campus.