YGSNA Members Present at New England American Studies Association 2014 Conference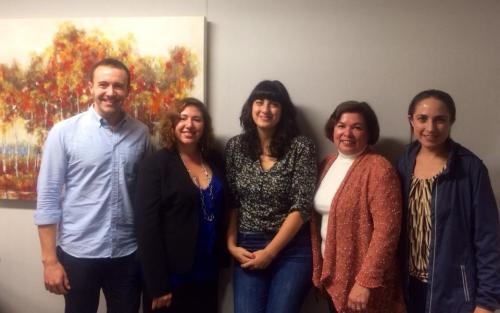 On October 17th & 18th, current and former YGSNA members joined colleagues from around the region at the New England American Studies Association (NEASA) 2014 Conference.  Held on Wampanoag homelands at Roger Williams University, the conference centered around the theme "Emancipation: Lineages, Legacies, and Limits."
The program included a robust representation of indigenous studies scholars, including Christine DeLucia (Assistant Professor of History, Mount Holyoke College), Rachel Sayet (Mohegan), and Ruth Garby Torres (Schaghticoke), as well as current Yale American Studies graduate students Tyler Rogers and Randa Tawil. Tyler's paper, "The Limits of Recovery: Indigenous Women's Narratives of Slavery and Murder in Colonial New England," was awarded the Mary Kelly Prize for best paper presented at the annual conference by a graduate student or non-tenure track scholar and draws upon his ongoing research into the gendered contours of indigenous representation and erasure within 18th-century colonial archives.
Other notable sessions included the roundtable "Indigenous Sovereignty, Conquest Mythology, And Indian Policy: Histories and Futures in New England" and readings from the recently released collection, Dawnland Voices: An Anthology of Writing from Indigenous New England (University of Nebraska Press, 2014). This landmark collection showcases classic and contemporary literary works from ten New England indigenous nations: the Abenaki, Maliseet, Mi'kmaq, Mohegan, Narragansett, Nipmuc, Passamaquoddy, Penobscot, Schaghticoke, and Wampanoag.
NEASA 2014 provided attendees a wonderful opportunity to continue many of the conversations from the NEASA 2013 Conference, which was held at the Mashantucket Pequot Museum and Research Center.  We look forward to continuing the dialogues in indigenous studies at NEASA for many years to come.